This program year we have invited you to hear several perspectives on the role of content marketing as a powerful element in today's B2B marketing mix for attracting, acquiring and engaging target audiences. Our speakers have also shown you how to leverage content to drive profitable customer actions by engaging in passion conversations; applying principles of behavioral economics; reducing the noise with The Impact Equation; and disrupting the industry through brandscaping.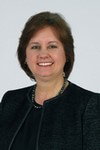 Laura Ramos
Vice President and Principal Analyst
Forrester
Laura is a vice president and principal analyst at Forrester. In this capacity, she helps CMO clients plan, build and deliver marketing programs that combine traditional, digital and social approaches to fuel topline growth.
A marketing practitioner with more than 20 years of hands-on senior management experience, Laura's core skills include: integrated marketing programs, improving marketing effectiveness, brand and product positioning and sales collaboration to drive customer consideration and engagement.
---