The marketing content needs of Sub-Zero and Wolf, a top luxury consumer appliance manufacturing and distributing leader, are many and diverse. The company's diverse target audiences call for many different marketing and communication needs. These needs were the impetus for a major overhaul of digital marketing efforts.
During the Jan. 8 keynote, John Kuehl, digital marketing manager for Sub-Zero and Wolf, will present a case study about the company's website modernization project, with a focus on its goals, challenges and deliverables required, including technology platforms, functional requirements and systems integration. Kuehl will share examples of the process, tools and feedback from the different user groups as well as metrics on the improvements and business efficiencies the program has made possible to date.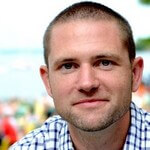 John Kuehl
Digital Marketing Manager
Sub-Zero and Wolf
John Kuehl is the digital marketing manager for Sub-Zero and Wolf. Over the past decade, he has brought vision, strategy and diligent execution to online marketing programs for top brands in tourism, entertainment and the consumer manufacturing and distribution categories. Kuehl is an expert in digital strategy and strategic communications. In his current position at Sub-Zero and Wolf, he is responsible for digital initiatives and fostering the digital brand image of one of the world's leading luxury brands.
Fortune has identified Sub-Zero and Wolf as one of the top 13 die-hard American companies whose operations, manufacturing and workforce are located entirely within the United States. In fact, the company is headquartered right here in Wisconsin.
Prior to his tenure with Sub-Zero and Wolf, Kuehl was promotions, advertising and web manager for Electronic Theatre Controls. Earlier in his career he also served as the eCommerce director for the Wisconsin Department of Tourism. Kuehl holds a bachelor's degree in journalism (public relations and advertising) from the University of Wisconsin-Madison.
---