You know that video content is essential, but it can be daunting to know where to start or how to effectively incorporate it into your marketing plan. Without a solid strategy, it's easy to fall into the trap of producing videos that miss the mark.
Join us for a virtual event featuring Tony Gnau, Founder/Chief Storytelling Officer at T60 Productions. Drawing on insights from his best-selling book, Lights, Camera, Impact, Tony will help you refresh your approach to video content, whether you choose to work with professionals or take a DIY approach.
Discover the key questions you should ask before starting any video project and learn about the types of videos that can set you up for success.
This is the perfect opportunity to reimagine what video can mean in your marketing ecosystem. You'll leave inspired and ready to create impactful videos that resonate with your audience and meet your marketing objectives.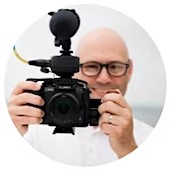 Tony Gnau,
Founder/Chief Storytelling Officer at T60 Productions
---